Sorry for the delays on this batch of reviews, it's been a long week. I'm keeping track of Oscar season, but admittedly, this is a strange year. I have thoughts on some of the fan-selected stuff they're doing, none of them good, so let's not give that more then necessary.

Oh, also Putin double-down and invaded Ukraine, so, we're paying attention to that now. (Sigh)

Anyway, things have been tiring, and the extra stress of keeping up with award season can be overwhelming, but I'm getting through it.

That said, there's one movie I'm not reviewing even though it's technically a 2020 movie, which should be in my purview, and that's the Chilean film "Song Without a Name". Basically, I rewatched it without realizing it, apparently I had seen it and forgot to review it earlier, and forgot that I had seen it, so I ended up watching it again. It's complicated, but it's a good and in many ways an important film, definitely worth watching, but I've given it two tries, and because of all the mix-ups it's cause me on my lists, I'm just gonna pass on it this time around. It's a good film worth looking for, but I just want to push it aside so I can move on.
Other then that, not much going on at the moment, so let's get to the reviews, starting with some of the Oscar nominees.
THE LOST DAUGHTER (2021) Director: Maggie Gyllenhaal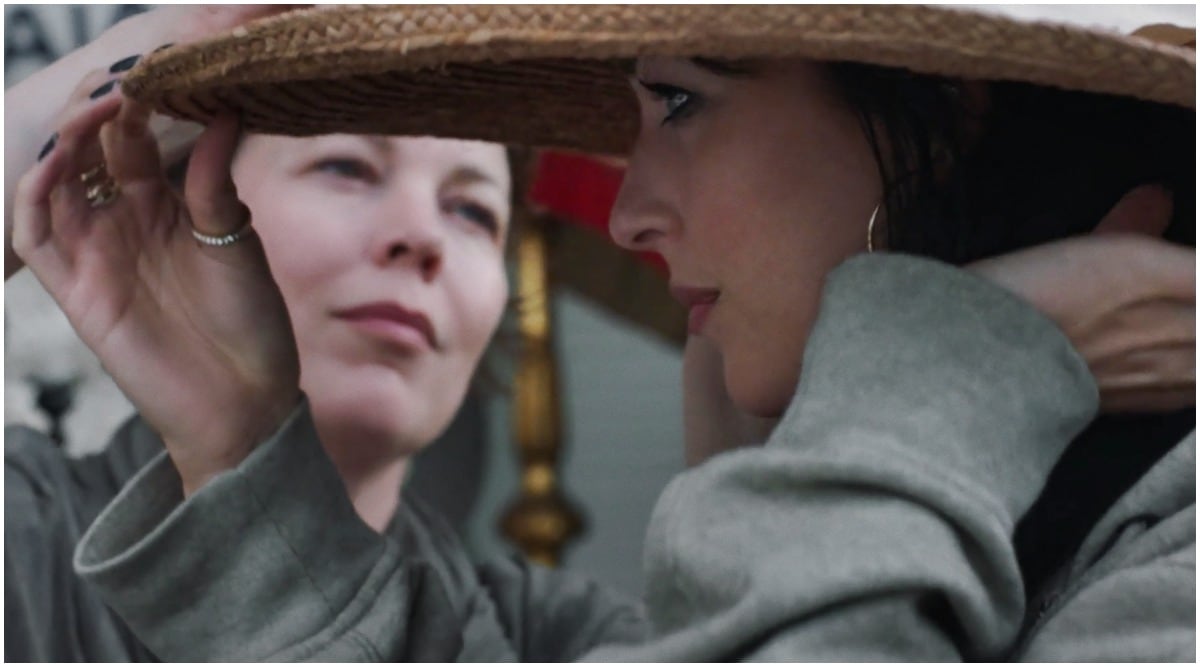 I have often feared that I am somebody who is acutely aware of how memory and recall can so often be-..., well, I guess the word is, "triggered", which,- I guess is accurate but I never did like that term, but it's inaccurate, sometimes things just come to you so suddenly that emotionally you end up back at that moment, that you thought you had forgotten and all these feelings and thoughts just overwhelmed and sit right over you. I don't like the term "repressed" either, it's not always a memory you're choosing to forget or a memory that you're unaware of how it's truly effected you, it's just, sometimes you got to compartmentalize it for the time being and move on. Sometimes you're trying to push it away permanently, which, definitely will hurt, but it's not always the intent. I say I fear this, because, these memories and thoughts can come out at times when they're entirely inappropriate, or sometimes they're appropriate and you just don't want to think about them. Sometimes they're so personal that trying to explain them involve giving, whoever's around you asking why you're suddenly laughing or crying or grinning or whatever, so much background information that you know it's not really worth it, and you're hoping they don't keep pestering for more info....
You know what other people are often more acute and aware about memory like that? Usually, actors. And you don't have to be an extreme Stanislavski method perform either, that's the inventor of it, but most modern acting practices use some form of memory, most actors, even with the most minimalist of training have some minor form of use for using their own personal lives and memory for certain things. They might not all have a timeline and they might not use the practice all the time, but it's there, and they all know it's there to use if they need it.
I don't know how much Maggie Gyllenhaal has or has not used memory in her acting, but I imagine it's something that's been on her mind over the years. For the last two decades, she's been one of my favorite actresses. While it seems like her brother Jake has taken most of the acting spotlight, I've long thought that she should've won multiple acting Oscars already, one for "Secretary" and one for "Sherrybaby". Yeah, I've always been a Maggie guy when it comes to the Gyllenhaals, but I'm not surprised she's turned to behind the camera in recent years, with "The Lost Daughter", her debut feature film. Mainly because, and I rarely see this brought up with either Maggie of Jake, is that they're second generation filmmakers. Both parents; Maggie's father Stephen Gyllenhaal has been an accomplished film and television director for over fifty years, and Maggie's mother, Naomi Foner directed 2013's "Very Good Girls", and that's after a long career as a screenwriter, including an Oscar nomination for writing "Running on Empty"; the movie that earned River Phoenix his only Oscar nomination. They started out acting in their parents films and have been working ever since.
I don't know how or why she chose this adaptation for her debut, a story about a mother on vacation, but from a faraway glance, it's not hard to see why it could have some resonance for Ms. Gyllenhaal.
The movie involves an attractive older woman, a professor named Leda (Oscar-nominee Olivia Colman) on vacation in Greece during the Summer. She's 48, and her kids have long grown up. She's renting an apartment by the beach and while she wants to occasionally have fun, she's mostly interested in being on her own. Eventually though, she reluctantly befriends Nina (Dakota Johnson) a mother who's also trying to enjoy the beach with much of her family.
Then, Nina's three-year-old Elena (Athena Martin) goes missing suddenly. After fearing the worst, Leda finds her, but in the time between, we suddenly get the first of many flashbacks to a younger Leda (Oscar-nominee Jessie Buckley), around Nina's age, struggling to connect with her two young daughters who are mostly aggravating her more then helping her experience the supposed joys of motherhood. At times, she goes over the line. There's one particular sequence where her young daughter, after injuring herself trying to cut a fruit like her mother does, begs for her mother to simply, kiss her injured finger to make it better, and yet, she's so much more frustrated by having to tend to her daughter's injury that she just doesn't. It's painful and heartbreaking, and yet, a vital reminder that not everybody is a natural parent. (Now we're getting deep into subjects I've tried analyzing in my films before, and she definitely finds it slightly better.)
Another flashback explains why Leda, after finding Nina's daughter on the beach, decides to seemingly inexplicably steal Elena's beloved toy doll, a deeply harsh reflection of both her narcissistic past and her struggles as a mother. She keeps the toy hidden as she continues befriending Nina and several of her acquaintances. Nina's pregnant with another child, and yet, she herself seems to mentally struggle with motherhood, as well as struggles with her relationship, as her husband Toni (Oliver Jackson-Cohen) is both on and off the vacation, escaping for work occasionally while he's out working until he arrives later on, but she also begins having an affair with Will (Paul Mescal), a local assistant at the resort their at, and someone that Nina's befriended on her own and confessed some of her painful past too.
I think more cliche scripts would go for a more natural comparisons between these stories, but "The Lost Daughter" is much more messy and troubling, and in turn feels more real. Like, Young Leda having an affair with her professor (Peter Sarsgaard) seems like it wouldn't just match with Nina's affair, but also with a flirtatious friendship Leda has with the resort's manager Lyle (Ed Harris) another older gentleman and both have pasts they're struggling to run away from, but that doesn't really go where you'd naturally think it would. Instead, we get a darker profile of a woman who desperately struggled with her kids as a young mother, who's now much older and aware of her past mistakes, aware that she might not be able to completely recover from them, and yet still very capable of being controlled and run by her worst, most vain, and selfish natural instincts. It's a very complex character shown in very small and minimal ways.
Adapted from a novel by Elena Ferrante, "The Lost Daughter" is a really strong first effort from somebody who arguably seems like she's been almost too natural a fit for writing and directing for years, but happened to excel at another craft and delayed this path until now. Gyllenhaal is a great actress, but acting, like parenthood, is a skill you, hypothetically at least, get better at the more you practice and the older you get and yet it might never be mastered. And sometimes, if you aren't a good enough actress as a young parent, when perhaps you most needed to be, you can at least become a good enough one later to help out a younger parent going through those same struggles you had. "The Lost Daughter" feels like it's so personal and touching that I can't help but imagine more going on then just the story on the surface, and I can't tell if it's the interesting story, or the interesting person behind the camera telling it. Perhaps, it's the performances too though, Buckley and Colman are really good here. Colman in particular is incredible at the little quiet scenes where she's saying nothing and struggling to keep in her emotions, as well as those more explosive moments where she either explodes, or ironically hides more behind her words. It's a damn-near great film, and hopefully a special beginning to Gyllenhaal's filmmaking career, but I hope we still see her on screen sometime again though.
SUMMER OF SOUL (...OR WHEN THE REVOLUTION COULD NOT BE TELEVISED) (2021) Director: Questlove
⭐⭐⭐⭐⭐
The Woodstock Music and Art Fair, that took place over three days in the Summer of 1969, is often noted as a cultural shorthand for the entire counterculture era of the late '60s. It was three days of peace and music, and many legendary acts performed there that weekend. Still though, from the outset, while it's mythos has become more legendary then many of the artists who performed there, it does seem kinda arbitrary that the festival is given such high credence. I've heard the term "Woodstock Generation" several times in my lifetime, the moment has become so significant to the entire era that it's literally defined that era. Yet, what gives, it was just a concert, and frankly it wasn't even that particularly unusual for the time?
Well, it was an event, and one that, kinda came about unexpectedly. 400,000 people, way more then actually anticipated went to Max Yasgar's farm in upstate New York, at around the same time, the Age of Aquarius had basically started becoming mainstream at that point, and this probably was the moment that the majority of America saw firsthand just how large and influential the movement had become. Probably the biggest thing though, even though it was a major touchstone landmark at the time it happened, is the documentary film that came out later. I have been meaning to get around to rewatching "Woodstock" in order to add it to my Canon of Film someday, but Michael Wadleigh got his crew there, and with the famous editing team of Martin Scorsese and Thelma Schoonmaker, took hundreds of hours of footage and combined it into the Oscar-winning documentary, that's become as iconic as the festival itself. Hell, every-so-often, the movie gets updated as more and more footage and deleted sequences get released or put back into the film's epic product.
And yet, all that, peace and love, and hippie hullabaloo, as appealing and attractive as it is, it's not really a complete and accurate look at the zeitgeist of the modern day peoples at the time, is it? It sure doesn't always look and seem that way from the perspectives of the more modern history books. I wouldn't say that Woodstock was that, Woodstock and the entire countercultural movement that it represents, perhaps might've been a little more white and friendly-looking for the cameras and for the producers of those who decided what events to focus in on and what not to. Woodstock does feel like, one of those events that, you see in a history book, and yet, you kinda feel like it's importance and true relevance, is arbitrarily inflated.

Do I have evidence to this? Well, for starters I've never really heard of the so-called "Black Woodstock" until now, that's probably a good piece of evidence right there. And while, I wouldn't call the Woodstock generation, a purely white person's endeavor, and definitely there were several African-Americans both at the festival itself and of course performing; the show opened with Ritchie Havens, ended with Jimi Hendrix and somewhere in the middle was Sly and the Family Stone, the revolutionary changes that personify the white countercultural experience of the era, don't necessarily matchup to the African-American experiences of the same time. In fact, watching "Summer of Soul (...Or, When the Revolution Could Not Be Televised)" despite me knowing that these two events took place, in some cases, literally, at the exact same time, and in the same exact state in fact, these two cultural touchstones feel like they could've existed on different planets. Hell, the aforementioned Sly and the Family Stone performed at both events, and well, yeah, that band always seemed like they came from their own separate planet sure, but no, they definitely seem different from each other even here.
Perhaps, that's because we all saw "Woodstock" and have been influenced, inspired and still watching it over fifty years later, and well, the 1969 Harlem Cultural Festival, for the most part, we haven't seen and wasn't televised, until now. It was filmed, all weekends of the event that took place, for many people, down the street, for others, they were at what we now call Marcus Garvey Park between 120th and 124th Street and took place over four weekend in August of 1969. It even got as many or bigger numbers then the Moon Landing. I wish we had a performance of Gil Scott Heron's "Whitey's On the Moon" in the movie for perfect irony, but we got plenty of people here. Stevie Wonder opened still caught right between his '70s breakout and his Little Stevie era, the aforementioned Sly, we had legends at the time like Mahalia Jackson and B.B. King, we had the biggest stars of their time, like Gladys Knight and the Pips, Nina Simone and The 5th Dimension. Music from many different cultures of the African-American experience as well, as the social justice movement of the day, especially in the Black communities was really a worldwide movement.
And the 300,000-attended events, was filmed by TV producer Hal Tulchin, and yet, for the most part, the events of these nights have been unseen 'til now. Why? well, it just wasn't released or put together as a film. Some of the footage got shown on a couple TV specials that were barely seen. He tried to sell the film as "Black Woodstock" in light of "Woodstock", but it just never took off. Even as word of the footage finally caught interest of some of the more high-profile documentarians of today, the film still had a bit of a rough production. Eventually, the film got directed by Amir "Questlove" Thompson, the leader and drummer of The Roots; this is his debut feature as a director. At first, admittedly, I wasn't as sold on the film, mostly treating it like I would as an album, as great background music, but eventually what he does with the storytelling got me woven into the film proper.
He's got two objectives here, one is to rewrite history and take this forgotten piece of music history back into the history books where it belongs. The second and more crucial element is to take this concert and put into context as much of the black cultural identity was up 'til that point, and show how it's influenced those who came afterwards. Like profiling the Latin and afro-Caribbean music eras like Mongo Santamaria. Profiling how much gospel and the church were apart of this movement, by showcases artists like Edwin Hawkin Singers, the The Staple Singers and Mahalia Jackson. That I single out, call while their was a religious bent in much of the hippie movement as well, it isn't generally what most people would associate with that culture at all. It's also striking to see a young Reverend Jackson acting as speaker at the festival, talking about the day Martin Luther King was killed (For those who don't know, he was actually there.) as a lead-in to a performance of "Precious Lord". Questlove splices in interviews with those who were there and the editing does an amazing job of taking this concert documentary and turning it into much more, and putting all these performances into a greater context, and putting the festival in the appropriate context.
Oh, it's also still just, a great concert documentary. I've seen some critics call it the best the music documentary of all-time. It took me a couple viewings before I could jump on that bandwagon, but, yeah, it's up there. I can think of movies that tried this kind of approach and flopped badly, they'd either put too much emphasis on the story about the concert and miss the concert or they'd just record the concert and lose all the context behind it. (Or the concert just had less context then really needed or worth a documentary) "Summer of Soul..." achieve it all it's goals and then some. It's one of the most fun films, not just documentaries, from this year, and frankly at 2 1/2 hours, it's biggest issue might be that it's too short, and that we wanted more, but I'll take what we get.
It'll be weird looking at "Woodstock" and taking in, just what it's missing in the future, but we should've been asking that for the past fifty years though. I'm only scratching the surface of the documentary myself I should add, and I suspect that there is even more that could be added, perhaps well get even more of this in the future.
THE FRENCH DISPATCH OF THE LIBERTY, KANSAS EVENING SUN (2021) Director: Wes Anderson
⭐⭐⭐⭐
Is this what a Wes Anderson anthology series would look like?
That's one immediate thought I had, but no, Wes Anderson, he's not inspired by television. He takes his inspiration, very much from, literature. His movies always seem like old, strange library books you've never heard of, but pick up and borrow one day, almost randomly, hoping that whatever strange-sounding thing promised inside gives you something new or unique. Personally, I've always suspected that his best work is secretly inspired the most by classic children's lit, "Moonrise Kingdom" for instance, feels like a forgotten first book in a series that would've been rivals to "The Boxcar Children" or something of the sort, or "Isle of Dogs" seems like something that could've been a Roald Dahl fever dream had he tried to write "Lassie" on acid. Hell, he did adapt a Roald Dahl novel with "Fantastic Mr. Fox". However, that assessment is way too limiting. "The Royal Tenenbaums" literally uses the conceit that the movie is being told as though it was a book, and that book wasn't children's lit. It seemed more like a bad, sweeping family epic, something out of, J.D. Salinger's short stories of the Glass family. That might be read by the most Holden Caulfield-like kids in the class, but that's not children's lit. Certainly, "The Life Aquatic..."'s most direct inspiration is "Moby Dick". "The Darjeeling Limited" seems more like it's come from the works of European authors, something like, E.M. Forster or Karen Blixen, especially the European authors who wrote about India, or other travels to countries the Europeans tried to colonize.
"The French Dispatch of the Liberty, Kansas Evening Sun", is clearly his rye little take on the New Yorker and some of their more intriguing and obtuse pieces. The titular periodical is based in the obtuse Parisian suburb Ennui-sur-Blase in the 1950s. The magazine's founder Arthur Howitzer, Jr., (Bill Murray) we're informed has passed away, and per his final wishes, his obituary will be published in what will become the final issue. Between the 3 1/2 segments that documents, presumably articles in this final magazine, we get interludes of Howitzer discussing the articles with their writers, and occasionally he may pop up in the stories themselves.
The articles are written all be ex-patriots who documents the excess and intricacies of living in France and the world in general, for their American audience. I don't know if anything like that exists anymore, but while that wasn't necessarily a New Yorker thing, that did used to be kind of a thing. I knew there are products in both France and America that only produce for each other's foreign market, clothing for instance; there's a famous meme where an American clothing company that sells exclusively to France put on their tag in French, "We're sorry our President is an idiot, we didn't vote for him." I remember seeing that meme passed around, in the early 2000s, so I don't know if that company still exists now or not, but I doubt any magazine of this sort exists now either.
After a beginning prologue from a cycling reporter, played by Owen Wilson, we got the first of three singular stories that make up the articles of this issue. The first story, retold through a museum slideshow presentation by reporter J.K.L. (Tilda Swinton) about a famous painter names Moses (Benicio Del Toro) a mad artist for whom the majority of his work he did while in jail serving a double life sentence for double murder. After he's inspired to paint from his muse and often his subject, Simone (Lea Seydoux), his work gets noticed by a fellow inmate, a tax cheat and art dealer, Julien (Adrien Brody) who begins selling his work and image when he gets out, eventually getting him to put on a major show and appearance at an event in the hobby room of the prison. It doesn't go particularly, and yet, it also does go extremely well, in some very classic Wes Anderson ways.
The second story, taking place, sometimes around the May '68 protests, revolves around the Ennui's variation on them, named the "Chessboard Revolution". This involves our narrator and journalist for this story, Lucinda (Frances McDormand) getting involved with a struggling student activist leader, Zeffirelli (Timothee Chalamet), both involved, with him, and involved in the politics as she takes it upon herself to edit and eventually rewrite his manifesto. This seems childish at first, but after the conscription sets in, and as we see later enacted in a play that Lucinda translates, after a friend of Zeffirelli commits suicide after getting drafted, the revolution begins to take strategic shape. However, the revolutionary youth also get divided into factions, between Zeffirelli's group of mostly males, and Juliette, (Lyna Khoudri) a student revolutionary who mostly represents, both women, and the general anarchistic antagonistic view of all rules and regulations, including revolutionary manifestos, even if it's dedicated to her because Zeffirelli has a crush on Juliette, and vice versa. Personally, I found this story the most difficult to get behind, and perhaps the most convoluted of the bunch.
The third and arguably best of these stories, is retold on a talk show by Roebuck (Jeffrey Wright) speaking as though James Baldwin had been a food critic for much of his career, and he retells the story of a profile on Nescaffier (Steve Park), the personal chef of a Police Commissaire (Mathieu Amalric). There's only a few words from the chef that we get in, and some brief scenes of him preparing the food, when there's a phone message informing them that the Commissaire's son, Gigi (Winston Alt Hellal) has been kidnapped and is being held for ransom at a junkie whorehouse. All this involves several different leaders of the underground, all of whom are upset of the recent capture of their bookkeeper Albert (Willem Dafoe, who suddenly seems to be in everything lately [Although everybody seems to be in this film too). This leads to several bizarre convoluted strands coming together, through live action and animated sequences that involves a car chase, a prisoner exchange and even, an exchange of dinners prepared by Nescaffier before the story ends with a sudden, strained monologue from the chef about having discovered a new taste. It's actually quite a beautiful and touching scene and in an all-star cast, and trust me, I haven't mentioned like, half the major names in this film, Wright gives the most touching and memorable performance.
"The French Dispatch..." is kinda odd, even for Wes Anderson. I get the idea, it's a collection of stories from him, all kinda done in the style of some of those magazine articles that you would read back when journalistic integrity was strived to be kept, even when it was most blatantly not in order to get a better story, but that's kinda tricky with film. There's always been these attempts at multiple narrative stories in movies like this, and when done, well, you make a movie that ends up feeling like a good collection of short stories. Doing that though, does mean that some stories are gonna be more interesting and appealing then others. Personally, I like the first story the best, with the last one close behind, and the 2nd one, squarely the least interesting for me. None of them are bad, but you do get exhausted. Wes Anderson's always added so many extra layers to his several characters in most of his movies, that is almost seems strange to see him just tell separate stories, even with this light albeit flimsy conceit behind them.
I was kidding, initially at first, but I do think I would've enjoyed this more as an anthology series, as opposed to a full movie. I get why the Academy overlooked this film, even in categories like cinematography, production design, costumes and even makeup where they really should've admired the craft going on here. Ever since Wes Anderson's had the financial ability to make his films as elaborate and detailed as he could, he's used that ability to it's fullest, and he seems to get more elaborate with each film. "The Grand Budapest Hotel" for instance, played with screen size, while "The French Dispatch..." toys with color and black & white photography to various extensive degrees. I wish I always understood exactly why he would switch; sometimes it was unclear, but I got what he was going for and why it fascinated him.
At the end of the movie, there's credits listing several of the greatest newspaper and magazine men in the old days, as well as journalists who wrote similarly-styled articles and tales shown in this film. I think he was only going for this lovely send-up and homage of this era of journalism, and lamenting much of it's end. There's been several effigies written about the end of classical journalism for a long time now, in several aspects of the news media, most of which I tend to dismiss, but honestly, there is something to it. There was a time where the best journalists were indeed the best storytellers we had and quickly those days are leaving us. Hugh Hefner used to say that he was a literary publisher that just happen to have naked women in them. Arguably the most influential writer of the last half-century could be Hunter S. Thompson, who wrote regularly for Rolling Stone. And writers like those inspired for this movies still have a major place in modern literature and many will for some time. I think the reminder is always nice, and for that, I'll glad Wes Anderson reminded us of them, even in his most delightfully quirky ways. Perhaps the real figures of his inspiration, in this case might be slightly more interested then the characters he created in this instance though, either way, by the end, I found myself caring deeply about both of them.
PASSING (2021) Director: Rebecca Hall
So far as I know, and there's a more-then-decent chance that I don't know, I only knew one person who was, "Passing", and I wouldn't even necessarily say that. It was my 9th Grade math teacher, and I can't for the life of me remember her name. She was this tiny little firecracker of a white girl, probably could've passed for 30, but was probably a decade older, maybe more, who seemed pretty powerful in her demeanor. I remember she was quiet mostly, but didn't take any shit, and yet, could surprise us occasionally; like I remember once how she shut up a group of girls talking/singing Mariah Carey songs, by going into Jay-Z's rap on "Heartbreaker" and getting every word right. When, one day, one of her students who had recently found out, coaxed her into saying that, she had several relatives, they all looked exactly like her, except they were black, I remember thinking, "Oh, that explains a lot." That thought was probably racist of me, but yeah, I can definitely say that, I got a more clearer picture of her then I had up 'til that point. Still, I don't know for sure that she was (finger quotes) "Passing", per se, but I'll say that I never once thought to ask until she brought it up, and I would've simply presumed she was white if she had not mentioned it. So if I didn't, I gotta presume that others probably didn't either. I don't think it's someone's job to say what skin color they are either, so I get why she wouldn't.
I wouldn't have asked with regard to "Passing"'s writer/director Rebecca Hall either. I've been following her career, basically since I first noticed her in Woody Allen's masterpiece "Vicky Cristina Barcelona" and I've been a huge fan of her work, and I don't think she's ever explicitly played anyone of African descent. Subliminally, I can probably see some of it now, like in her character in "Frost/Nixon", I presumed she was British, which she is, she grew up in England and her father Sir Peter Hall, was the father of the Royal Shakespeare Company, but her mother, however, was Maria Ewing. She was a half-Dutch, half African-American opera who only recently btw, passed away, my condolences, but she was a force of nature on stage. There's plenty of Youtube clips on here, and apparently, she did a damn good Carmen, protraying her in several TV movies as well as on stage. I did not realize this until I looked it up. I think that's the point, just how easy it is, for some people anyway, to pass.
"Passing", based on a novel by Nella Larson, takes place in the 1920s New York, during the height of the Harlem Renaissance. That's when Irene (Tessa Thompson) runs into Clare (Ruth Negga), an old friend of hers from home. Irene doesn't recognize her at first, but soon, she realizes her, and realizes what she's been doing. She's been passing as white and has married a solumn although racist man named John (Alexandre Skarsgard, who's seemingly becoming one of those actor who can be on screen for so little and just immediately play villain so well). Her slight darkness leads him to giving her the loving nickname, "Nig", even though, he's fairly certain that she is not, a...- word you don't say.
At first, Irene wants to avoid Clare from here on in as she's got a rather comfortable life in Harlem. Her and her husband Brian (Andre Holland) seem relatively successful, with a household full of kids, and even a wisecracking maid, Zu (Ashley Ware Jenkins). She's fairly high-class and in the upper sphere of the Renaissance, often going out to some of the major clubs and parties of the scene, often along with other famous people, black and white who enjoyed the scene. Often, the clubs were visited by white people who, well, found a fascination with enjoying the African-American culture and wanted to observe them. Clare, who's rather bored and, well, segregated from her roots, finds this opening back into them, despite Irene's early insistence on the fears involve, decides to hang around Irene and the family whenever she can, and, essentially be apart of the scene, despite passing for white when she was on the other side of Manhattan with her husband.
I have no idea how often this kind of thing occurred, or how often it might still happen now, but I can tell you it was definitely more dangerous for it to be happening back then. "Passing" is shot in black and white, which seems almost like an obligatory choice, but it's not necessarily so, there's been films about people who were passing before, though, most of the examples, were played by white actors, Patricia Neal winning an Oscar for "Hud" comes to mind, or Susan Kohner in the '59 version of "Imitation of Life" I don't think I've seen too many African-Americans playing African-Americans passing as white. Part of me, wishes that "Passing" wasn't ultimately so depressing despite how it looks. The movie ends, rather frustratingly, and I don't want to get too into it, but the book it's based on was written during the Renaissance, and like a lot of stories from that time period about cultural struggles of finding one's true nature, it ends in a very sudden contrived death, one that's not well-edited in this film, and I don't know if it entirely works. I get the meaning and the symbolism of the time, and the tragedy of it all, still speaks loudly, but it also seems rather restrained, almost like a Hays Code ending where anybody that drifts into some bad habits and morally questionable behavior will automatically get punished somehow.
Still, the whole situation is heartbreaking to begin with, and seeing the contrasts of how these two light-skinned African-American women, and how separate their lives ultimately end up with the paths they take, how separate the worlds are between both the white and black worlds, even of supposedly liberal New York, and what success means in both worlds. "Passing" doesn't give us any new observations, but it asks us to consider them in this light. It's led by some wonderful performances from Thompson and Negga, and it doesn't shy away from giving us a lot to consider about our world and how much we are judged, not by our race, but by the color of our skin, and what apparent advantages that does indeed give some people. It's a strong first personal effort from writer/director Rebecca Hall; I have her no idea what her next project could be from a directing point of view, but I have a feeling that whatever she does inevitably direct next, it'll be something just as personal and effective to her. Maybe, it'll be race-related or not, but I've never realize that she would be someone who I would indubitably be fascinated with whatever she'll do next before, and now I definitely want to see more of her perspective on material, whatever that may be.
TITANE (2021) Director: Julia DuCourneau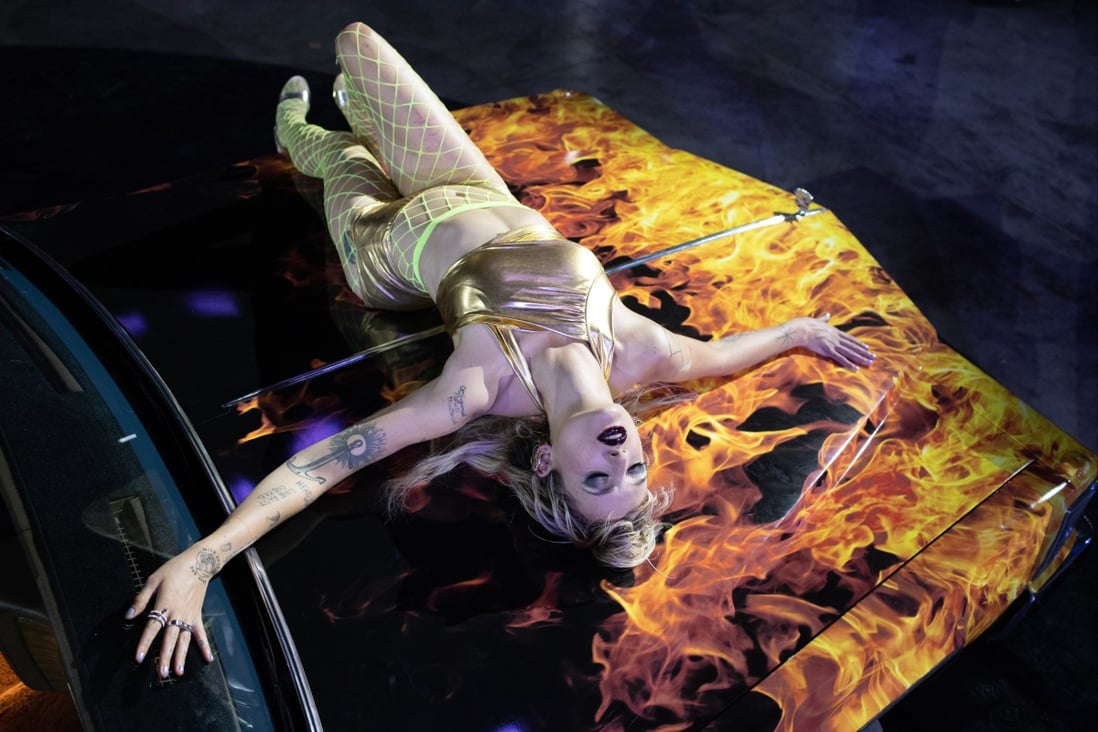 I want to write this review of Julia DuCourneau's "Titane" without having to, explain it. I mean, I can explain it, and even conjur some, of what I suspect are meanings and metaphors of the film, but is that really how "Titane" should be discussed? I mean, I know everybody who watched this movie, whether they liked it or not will mostly be wanting an explanation for this, but.... I don't think they want an explanation, they want an understanding of how somebody could make this? They want to know how would they think of it; why would they think of doing this, what-the-fuck's wrong with this person, and answers to other questions.
See, I came in a little more prepared having seen, and loved DuCourneau's debut feature "Raw", a film about a vegan who becomes a literally bloody-thirsty cannibal. (Or, I guess flesh-thirsty is more accurate, but trust me, there's plenty of blood in it too.) Reading my old review of
"Raw"
, I didn't explain much in that review either; I mostly ranted about how grossed out I was, and gave the film a respectable 3 1/2 STARS. Yet, I couldn't help constantly thinking about that film after, and I did pick up something about how female critics responding much more positively to the film then male critics, noting the coming-of-age aspects to it, were empowering as a parable about the struggles of a young woman striving to find their place in the world, which is something that we should remember is still a fairly new concept for most women and that kind of self-expression, especially an extreme-self possession, especially when breaking away from put-upon expectations...- I mean, yeah, the more I thought about "Raw" the more made sense to me.
Another way it made sense, in how she was expressing these thoughts, and her interpretations of them, was through, excessive body horror. Women's bodies are far more objectified of course, and they also can go through the most excessive and erratic of changes over time. Like, a pregnancy.
In these and many other ways, "Titane" makes similar sense to me. "Titane", which is just the French word for "Titanium", follows Alexia (Agatha Rousselle), we see, is in a car accident when she was young, and her survival ever since had depended on a metal plate in the side of her head. Ever since, and perhaps because of, she's had more of a connection with, well, metal, and cars, then she has with people. People she tends to kill. Cars, metaphorically for her job as a showgirl at a car show, or literally...- yes, lit-ter-all-ly, she's attracted to, and they are attracted to her. And she has sex with them.
I have no real idea why, women having, literal sex with a car, is such a thing now in movies; I'm still mostly baffled by that one scene in "The Counselor" where Cameron Diaz, just spreads herself over a convertible. There's also that weird, lesbian anime-, "Revolutionary Girl--Utena", which I haven't seen, but apparently literally turning into cars is some powerful lesbian metaphor....- Whatever that was, anyway, the movie everybody referenced with this movie, in most of the reviews I read was David Cronenberg's "Crash"; now that movie wasn't about, literally being aroused and wanting to consummate with a car; it was about people who were sexually aroused by car crashes, but yeah, I guess that might just be the closest thing most of the public would come up with, but honestly, I didn't think of that film at all with this movie. "Crash" is a weird film, and so is this one, and there is definitely some Cronenberg in her, but Cronenberg's movies are all about exploring the deepest, darkest recess of the mind, and DuCourneau's is body dysmorphia. She's even said so; this L.A. Times
interview
she gives, explains it well, she talks about how unsympathetic the character is, and yes, she's a serial killer who uses her body to find her victims, and yes, she's attracted to large metal objects like cars, and they're also attracted to her btw, this is a two-way relationship.... And her influences weren't Cronenberg; she said she was more intrigued by Caravaggio paintings, and when she does list a general movie that inspired the film, the first one she referenced was "Henry: Portrait of a Serial Killer", and yeah, I definitely see that movie more then I see "Crash", but I see some other inspirations too. Some of Francois Ozon's more absurdist works, like "Ricky" for instance, feels a bit like this film's mirror image. But yeah, this character is very Henry, she seems to keep finding herself in a position to constantly kill everyone around her. During one hilarious sequence, she keeps trying to escape from a house after killing her most recent human lover, but the house turns out to constantly have more people in it and she keeps getting annoyed every time somebody else comes in and she now has to kill them.
Inevitably, she concocts a weird plan to pose as a missing person, the long lost son of Vincent (Vincent Lindon), as she strikes a slight similarity to a ten-year computer-aged picture of his son who went missing ten years ago. Vincent is a steroid-freaked firefighter who at first seems completely ignorant of many of the obvious signs that she's not her son, not the least of which, she's hiding a severe case of pregnancy. Her body keeps getting more and more scars and she begins to leak motor oil the more and more she tries to tape her body down. Yes, motor oil.
So there's a lot here, and quite a lot of it seems ridiculous on the surface, but the movie is quite deep. There's actually quite a bit of disturbing examples out there of people being either so insular or otherwise isolated that they find more affection and attraction from inanimate objects then they do people, and if they seem particularly anti-social or sociopathic, it's not that surprising. (Hell, in Paris, some woman claims she's married the Eiffel Tower, and I don't want to see how the honeymoon went.) So, yeah, maybe this isn't as science-fiction as it seems. And if "Raw" was about young women finding themselves as they come-of-age, "Titane" is about a woman who isn't able to or allowed to break out into herself, and arguably she's constantly being pushed deeper into a hole that society and herself has pushed her through.
On Vincent's side, actually, it's not even that weird that somebody would say they're some long lost family member when they're clearly not. The documentary "The Imposter" details a rare recent incident of this a few years ago, and sometimes any kind of perceived hope can lead to a detailed delusion. Plus, he seems to just want to be able to have someone to bring up and have around and love. At one point, when it becomes too obvious for him to that she's not his son, he eventually tells her that he cares for her no matter who she is. His struggles to defy age and keep his body and mind in rigorous fighting spirit mimics her struggle to with her inability to trust her bodily instincts.
Both performances are quite strong here, and Director Julia DuCourneau's aesthetic, two films in has made her one of the most distinctive filmmakers out there. However we want to interpret her films, she's got a mysterious vision, unique muses and is full of ideas and images that make cinema quite fascinating right now to follow. "Titane" will not be for everybody, I'm barely sure this film is for me, but I'm never looking for what works for me, I'm looking for what the filmmaker and filmmaker can bring to the table and how good they are at bringing it. DuCourneau can bring so much that we don't have right now, and for somebody who's only two features into her career is one of the most assured filmmakers I've seen at this point, it's quite astonishing somebody this fresh and distinctive to be this good, this early.
THE CARD COUNTER (2021) Director: Paul Schrader
⭐⭐⭐⭐⭐
Paul Schrader seems like a very insular curmudgeons of a man. I've had some scattered observational interactions of him on Facebook, where I've seen his posts occasionally shared or re-posted by mutual Facebook friends as well as other cinephiles. He's known for saying things, that- let's generously say that, they have a tendency to see somewhat behind the times. His films and characters, the ones that we most associate with him anyway, all do in fact, seem very much like him. Coarse in their thoughts and occasionally in their language, lacking or wishing to lack much of the much traditional emotional ranges that most others around his characters seem to have. They're solitary men, world-weary in their pain, yet tunnel-visioned in their approach to the world. His characters always seemed to literally be stuck in their own heads; often we're stuck in them with only their thoughts heard in voiceover, some of which we occasionally hope comes with exposition. Their own little worlds could be a jail cell, literal, or figurate. They find ways of being alone with their thoughts, and while they may seem like the kind of men who aren't effected by the world around them, they can be extremely heavily influenced by the smallest amount of new stimuli that happens to come across them.
Honestly, I find myself having quite a few disturbing similarities to Schaeder. Similarities that, I can imagine make him quite a frustrating person to be around and struggle to get to know, but they also make him one of the greatest cinematic artists of our time. Nobody climbs into the disturbing mind of the true loners of the world then he has. He's made other movies then these, even great ones like "Mishima: A Life in Four Chapters" arguably his best film as a director, but the guy who became famous for penning "Taxi Driver" is best at keeping his films as striped down and bare as his antihero's isolated minds. Throw in the fact that this latest movie is about a card counter who's orchestrating his own plan, and I couldn't damn near sworn that this is a film that I might've written during some of my more troubled early years, although the elements might've been there, the story itself wouldn't nearly be this good.
The titular card counter goes by the name "William Tell" (Oscar Isaac). We learn that after spending years in prison, he has found the mundane solitary life of a gambler soothing and comforting. He learned to counts cards in blackjack using a basic-but-effective Hi-lo system and mostly travels from casino to casino across the country, mostly taking advantage of low stakes games. He's good enough to be a professional but dips in and out winning enough to get by and travel to the next town before the casinos would get interested enough in trying to take him out. He's also skilled at poker, being able to read people well. Actually, this is really similar to a character I wrote once, just on the surface, which is where most of the rest of the characters seem to know him, but they can all suspect that there's more underneath.
One character that can see it is La Linda (Tiffany Haddish). La Linda, is essentially a sponsor for poker players. She's not exactly the person that puts up the money for players to enter circuit tournaments, with the caveat that they split the profits and repay the funds with your winnings. Tell is not interested at first, but he soon befriends a lost soul in Cirk (Tye Sheridan). Cirk is the son of a fellow soldier that Tell was with at, Abu Ghraib, and he's trying to convince Tell to join him on a crusade to take out one of the majors who ran the prison, and help teach and execute the torcher. His old superior, now working as a digital technology presenter at weapons conferences and going by the name, "Gordo" (Willem Dafoe) didn't get any of the jail time for his crimes that Tell got, because he wasn't in the pictures. I don't know if this accurate per se offhand, but it certainly sounds realistic. And it's an interesting, contrasting take for Schrader on the antihero who's trying to save someone who doesn't necessarily want to be saved. Eventually, under strict guidelines that he constantly reiterates to La Linda, which she laughs off at first, he takes her up on the sponsorship and begins earning money playing in high stakes satellite tournaments around the country, and he brings Cirk along for the ride. At first, it seems like this'll be a mentor/mentee story. Then it seems like a savior tale, and then tragically, it turns into something darker, yet never quite how it seems. The story is told incredibly bare. There's occasional red herring characters at the edges of the screen, like a popular celebrity poker player, a Ukrainian who goes by Mr. USA (Alexander Barbera) based on his persona and outfits during tournaments, and always has a cheering entourage around him, but you barely ever even see a close-up of him. Tell's not interested in poker fame or even the winnings. He's barely interested in sex as he only inevitably acts on his flirtation with La Linda near the end.
At first, we're not even sure he's that interested in revenge. The kid's got a plan for himself, but it's clearly scatterbrained at best, and on first glance, why would Tell care if one or either of these guys cross paths and leads to violence? That's the mystery of him though. We only barely glimpse Tell's motives, although, inevitably we see and understand his method and his inevitable superobjective. Most hero's journey are about the hero, metaphorically if not literally, finding their way out of their own personal prison; Schrader's antihero's are about people literally striving to find their way into their own personal prison, and that's fine with him. It's their coping mechanism to block themselves off from the rest of the cruel world. It doesn't sound appealing on it's surface, but Schrader can damn sure make it not only seem like an appeal choice, but an ambitious, bold and perhaps the appropriate correct choice for his characters. "The Card Counter" is incredible intense and stunning in it's simplicity, almost feeling like Schrader deconstructing his own tropes into something that feels new and classic at the same time. I'm surprise he hasn't used the metaphor of a professional gambler, as a solemn symbol for the loneliness of survival before now. I'm glad he did. I can see people being turned off by how minimal it is, this is a film that probably could be more appealing to the masses if it had a bigger budget and a more elaborate and artistic cinematic approach behind the camera, but that's not Schrader's style nor is it his intent. It's his story told the way he likes it and wants to be told, and on that basis, I don't think he could've done better.
ACASA, MY HOME (2020) Director: Radu Ciorniciuc
⭐⭐⭐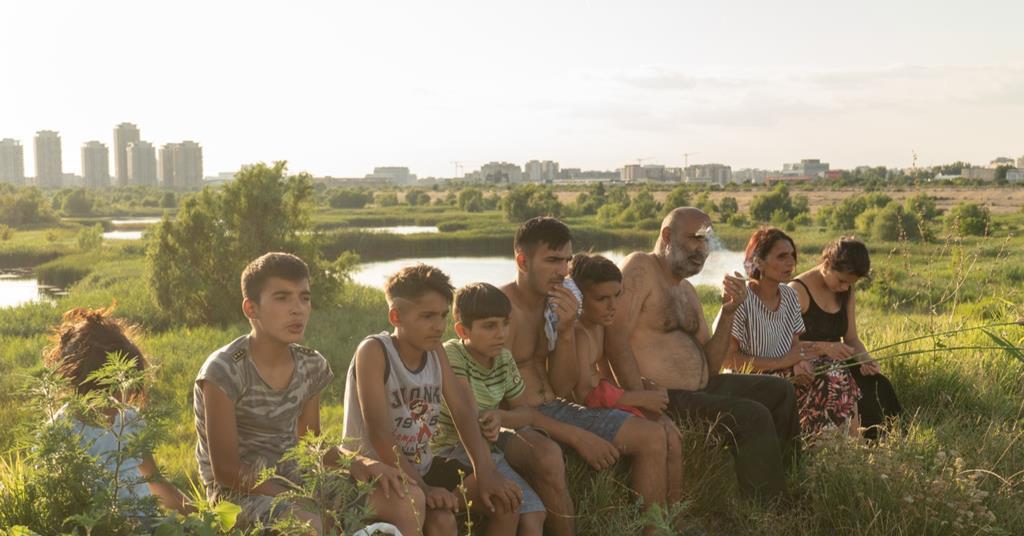 In some ways, it's always somewhat startling to find out that in many parts of the world, civilization as we may know and recognize it, has yet to reach. Normally, I think of that though, and I think of like, obscure sections of the Amazon where cannibals reportedly still exist, not Bucharest, Romania.
Then again, we do still have people, even in America who go to lengths to reject modern society too, but that's easier to do in theory then it actually is in practice. Take the example shown in "Acasa, My Home" a documentary about the Enache family. Patriarch Gica, his wife Niculina, and their nine kids live in the Bucharest Delta, a nature park that makes up the wetlands of Lake Vacaresti. Why and how exactly they've lived there for over twenty years, I'm not entirely sure, but eventually, the swamp-filled land, in the years since the fall of Communism in Romania, has become filled with wildlife and fauna, and has now become a nature reserve and National Park. "Acasa, My Home" begins with press conferences announcing this impeding on the Enache's home, shortly after they scattered to a hidden tent where the kids have learned to hide when Children's Services were called. While their home becomes federally protective land, the family is now finally forced to conform to the modern surroundings. It's not that they weren't aware or refused all modern advancements, but clearly there was something that pushed the family to the Park.
Some of the family do well adapting to the modern environment though, many of the kids seem to thrive in school. Others struggles with understanding that laws have consequences, and the parents struggles with concepts like the rent. The movie gets pretty good footage of them as they struggle to adapt, and it's natural to take their side as they struggle, but I kinda wish we knew more about how or why they ended up in the swamps to begin with. We don't get a lot of that.
"Acasa, My Home" is very cinema verite and I can appreciate that, but I feel like this movie would've benefitted from a voiceover, or just something to help us dive deeper into the family. There's definitely some hints at mental issues regarding the parents issues, but it's not always clear or compelling. "Acasa, My Home" is more interesting in theory then in practice, but it's still worth watching and pondering over. A lot more live without basic housing then you'd think, even in America, and frankly you do constantly wonder how they end up that way. Maybe if I hadn't seen the Oscar-nominated short film "Lead Me Home" recently, I'd be more effected by this, but this is still quite a powerful and important story to tell.
THE EIGHT HUNDRED (2020) Director: Hu GUAN
⭐⭐⭐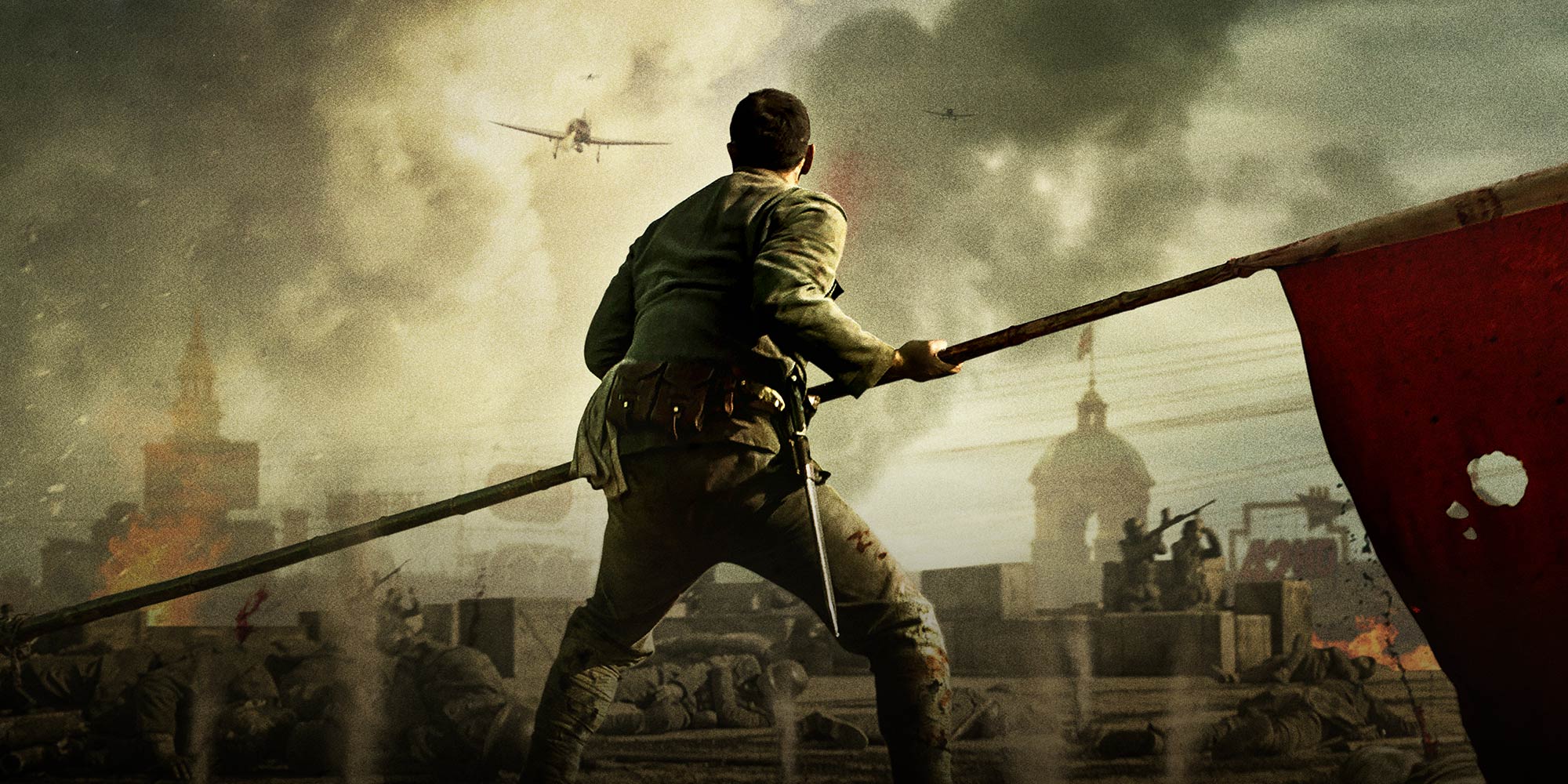 I guess, in general, it's a fair statement to say that we should be paying more attention to what China's doing, but for our purposes, I think it's important to say that in China as they appear to have enter the age of blockbusters. Our influence on the country and the nation's influence on the bottom dollar of American cinema in general has been well-documented in recent years as they've opened up to more outside influences, particularly Western influences, and more particularly, American influence in media. They're still not getting everything, at least, not technically, the government still heavily censors and some films for one reason or another, just don't make it there, even big movies, which severely cut into our bottom dollar and they are currently the biggest market for Hollywood blockbusters right now, yes, even more then the superhero-obsessed Americans, and they've certainly started using our techniques and storytelling methods in recent years to tell their stories. Probably the most notable example of this is the "Wolf Warrior" franchise of films. You've probably never heard of them, but not accounting for inflation if you check
boxofficemojo
list of the all-time highest grossing movies, At about 74 on the list, right below "...Dawn of Justice", and above, "...Revenge of the Sith", lies, "Wolf Warrior 2", a sequel to a major blockbuster hit in China, that's- look, I've heard of them, hasn't seen either of them yet, but basically from I've heard, it's pretty much just their version of Rambo movies, including the right-wing propaganda in them.
This leads me to the example of "The Eight Hundred", one of the best looking and biggest budgeted movies in China history. it's a war movie that uses all the familiar filmmaking techniques of how to make a great classic, Hollywood war movie, but because it's Chinese, it's using all the symbolic shorthand and narrative decision that probably has, if not powerful mean, at least recognizable meaning in the Far East, but seems quite bizarre to us. "The Eight Hundred" is about a famous battle during the Second Sino-Japanese War, which..., (sigh) I think I've talked about this before, but World History in America in America doesn't really do a good job teaching China's role in the Second World War, and some historians debate whether this should even count; I tend to count it, but, basically, during the early days of this war, the Japanese Empire was attacking China and was en route to take Shanghai, and in a last prayer defense, the Chinese retreated into the city to protect a vital, though seemingly innocuous warehouse. This was essentially a suicide mission, the goal was to protect the warehouse, but they manage to hold off the surrounding and attacking Japanese Army for four days. China lost this battle, but it's apparently the major point that spurned on China's military muscle and they would slowly-but-surely start fighting the Japanese Imperial Army out over the course of the next several years, all the raging war in the Pacific catches up to them, ultimately leading of course, to their unconditional surrender, ending both side of their wars.
It's a good story, an important piece of history; it's incredibly shot and well-made. On an $80million U.S. budget, the film is the first movie in China shot entirely on IMAX cameras. The movie looks great; I can definitely see myself getting immersed in this film if I was seeing it in an IMAX theater. Is it a good movie though?
Ummmm..., honestly, that's hard to say. I saw more then a few people who compared the movie to Ridley Scott's "Black Hawk Down", which, yes, was the first movie I thought about as well. "Black Hawk Down" which was about the U.S.'s involvement in Somalia and documented the incident that we now call the Battle of Mogadishu, which was also a confusing labyrinthian battle between several opposing forces that spread out over multiple days. Now that is a great movie, and like "The Eight Hundred", you don't get to know a lot of the characters in the film personally; there's a brief introduction to some of the soldiers on their way for a mission that's supposed to take a few hours, and then we get right into the nonstop, confusing, and violent mess of action. Honestly, with the budget and the meandering filmmaking style, and a lot of surprising amount of what, might be real events that actually happened, but stylized in such a way to seem like obvious nationalistic propaganda, to me, the movies I was thinking of most, were stuff like Michael Bay's "Pearl Harbor."
Now, don't get me wrong, this film is not that bad, and part of me knows that half the reason I'm drifting in my thoughts towards films like that, is because the techniques and storytelling are so bad in that film that even Americans who should have affection for that story, couldn't get on board with it. The style and techniques to have a bit of a Bay aesthetic to them, but it's also definitely better then films. I particularly like the game of chess scene involving a giant flag and attempts by the Chinese to cross a bridge with supplies, without getting shot, and how that played out. The strategic elements of the movie were quite interesting. Who knew for instance that mustard gas attacks can be thwarted off temporarily if you're able to urinated on a towel and breath into it.
Yet, we also know how too much strategy talk can absolutely dull a moviegoer to sleep at well, something like Aaron Schneider's recent "Greyhound" comes to mind with me for that. The balance when it comes to war movies are really difficult to pull off and if it's not a war or a battle you care about, or are even familiar with, can be tricky. I imagine even "Black Hawk Down" would play rather dismissively to younger Americans who ever don't remember or know or even care about our activities in Somalia. So, I guess I'm recommending this ultimately. I don't think it's for me, or it isn't yet anyway, maybe after I brush up on my modern Chinese historian folklore and symbols and learn more about Japan's attempted imperial takeover of Asia during WWII, maybe then I'll appreciate it a little more.
Although, I still doubt that this is a great film. The movie did win a lot of awards in China, and even got recognition elsewhere, including at some of the technical Guild Awards in America, the Visual Effects and Sound Editors liked the film, but I get the sense that wasn't necessarily the best China would have to offer, and you know, while I do love Asian filmmakers that do have western storytelling tendencies, Kurosawa for instance, or to name a Chinese example, ZHANG Yimou, I gotta be enough, it is always gonna be a little freaky to see them being, too western in approach to storytelling. Maybe that's just me and that's just, not what I want when I'm watching a movie from that part of the world or maybe it is general concern over cultural appropriation just slightly going over that invisible line that from appreciation to problematic, either way, "The Eight Hundred", it doesn't cross that line for me, necessarily, but I can't help but think that it inches close to it.... I don't know, China, do you really want to embrace so much of this part of our culture? I mean, to be honest, were not necessarily crazy about it either to begin with, but, eh, maybe there's better parts of our filmmaking mise en scene and techniques you can take then this, that's all I'm saying? Maybe, kinda...
(Shrugs)
I don't know, maybe I'm just way off. Anyway, "The Eight Hundred" is interesting enough to consider if nothing else.
MAYOR (2020) Director: David Osit
⭐⭐⭐
If I'm being honest, I never really got the appeal of being a mayor. I've always been a little bit skeptical of people who I think of "big fish, small pond" people, and at least in the United States, it seems like a "Mayor" is a good position for people like that, and in general, kind of a dumb one. From what I've gathered, most mayors have relatively little actual power. They have influence, sure, but actual powers, usually things have to go through city councils for approval on things, and most of their influence seems ceremonial. That doesn't mean they don't do anything, somebody needs to make sure the sidewalks are paved, and I'm glad they do it, but yeah, generally I don't think of how much they would have to do that actually matters.
That said, I'm not the "Mayor" of Ramallah.

Where's Ramallah?
(Sigh)
Well, that's a tricky question to answer, but, I guess, technically, you would find it on a map of today, in Israel, but that's not a good answer. It's on the outskirts of Jerusalem, on the West Bank, and is nearly surrounded by Israel, yet, because of it's political proximity to Jerusalem, and it's cultural and political importance, it's basically, the de facto capital of what we would call, Palestine. So yeah, being a Mayor of this place, is a little more challenging. Although, they do still have to make sure the place is set up for Christmas. The documentary follows Musa Hadid and many of his staffers in the Mayoral office as they try to work around, running a city, that's constantly under the threat of , and occasionally under siege. Meanwhile, he's trying to figure out, what the best way to promote and brand the city of Ramallah. I've seen some people call it comedic, and yeah, it's comedic in the same absurd way that "Parks and Recreation" can be. Politics, in any situation is absurd. You're debating in a meeting about whether license plates should have the motto of the town that they haven't decided on yet, then you're hosting Prince William in a promotional tour of the town, in hopes of getting him to promote the inevitable peace before the Israelis and Palestineans and an inevitable deal/debate over land.... (Sigh) Yeah, that same old argument.
Musa Hadid has a job that I would not envy, and he does it surprisingly well. The movie is minor ultimately, but I do like the contrasts between the everyday politics of being a mayor and the struggles of running a city, contrasted with, you know, everything else that being the mayor of the de facto capital of Palestine has to be. Mayor, really is, more-or-less just a spokesperson job, and this city needs a spokesperson and while I don't know who's listening or what will or anybody could try to do to inevitably make this situation better, he's a good spokesperson. There's something truly perverse about having to cross a border just to get to your town's wastewater plant, and for what, because somebody named Abraham had two sons a long time ago.
It's not my favorite political documentary; there's no real conflict, political pconflict, I mean, he's not running for reelection, or having to fight off political scandal or anything. The movie ends with a wonderful performance that the town's seeing for the holidays, that the city set up. It's ironicallly more slice-of-life then other docs out there about similar politic tales, and it's enjoyable on that level. Yet, if it weren't contrast with the location I'm not sure how much I'd enjoy it. But, for giving us a rare look inside the smaller political world of the Middle East and of the WEst Bank conflict. It shows how politics, the real, day-to-day politics that helps life go on, does indeed, continue to go on, even in places where you'd think it wouldn't. I guess that's inspiring all things considered.